As REALTORS®, we're in and out of homes every day. When it comes to home trends, we've seen it all and watched the styles come and go over the years. As the trends change, so do the items on buyers' wish lists. Here's the top interior design trends we've been seeing in the market lately, and what the experts predict the rest of 2022 will bring!  
1. Bringing the Outdoors In
This probably sounds like the last thing you want to do during an Iowa winter, but hear us out! Known in the design world as "biophilic design," the concept of incorporating nature into a home isn't new, but it has gained popularity during the pandemic. Being shut inside for the last 2 years has increased our appreciation for the outdoors, and it's become a strong inspiration for many homeowners when decorating their spaces.
This trend takes shape in many forms: the rise of houseplants for those with green thumbs; even more emphasis on big windows and natural lighting; an increase in nature-inspired decor, such as live-edge wood slabs for dining tables and mantles; more sunrooms and screened-in porches being included in new builds or added onto existing homes; a bigger demand for homes with nature views or wooded lots; and so on.
Photo Credit: Parade.com  
Nature is also the new neutral when it comes to paint colors. Blacks, whites, creams, and tans are giving way to greens and browns. Need further proof? Behr, Benjamin Moore, Sherwin-Williams, and PPG all named some shade of earthy green as their color of the year.
2. Luxurious Outdoor Living 
It's not just enough to bring the outside in these days. People are continuing to opt for outdoor entertainment as a safer alternative to indoor gatherings. Things like spacious backyards, balconies, and screened-in porches are a huge draw for buyers right now. From more common features like decks, patios, and fire pits to the rarer finds—outdoor fireplaces, pools, and even outdoor kitchens—there's no doubt that outdoor living spaces are in high demand.
Photo credit: Good Housekeeping
3. Mindful, Multipurpose Spaces Are Major
Over the past few years, our spaces have had to be flexible as things that usually happen outside the home, work, school, workouts—began to happen at home instead. 
That need for increased flexibility has not gone away. People are continuing to be very intentional with how they structure and arrange their homes since we are (still) spending more time at home than we used to. It's also why people are emphasizing multipurpose spaces—for example, a spare bedroom that's also an office, or a home office that's also a home gym, or a children's playroom that now doubles as a homework hub or a virtual class zone. 
Long story short, our spaces need to be flexible yet homey, and many of us are still working on striking that balance. As a buyer, when looking at homes on the market, envision how you and your family would use that space, and what purpose(s) it needs to serve. As a seller, it's helpful to highlight spaces that could serve multiple purposes. This can be done through strategic staging or via the description on your home listing.
4. The Jury's Out on Open Floor Plans
While we aren't quite ready to give up the open floor plan concept, buyers and homeowners are starting to re-appreciate the value of separate rooms. According to a recent survey, 51.2% of people prefer an open floor plan home, while 48.8% said they prefer a traditional layout—a near perfect 50/50 split. While homes with open floor plans are still popular on the market, this data shows that it may not be the favorite for much longer. 
What's behind the shift? As with any home trend, the open floor plan was bound to come down from its heyday eventually. Like so many other things, though, this shift can be partially attributed to the pandemic. The era of Zoom calls and work or school from home ushered in the need for quiet spaces within our home. (Anyone who's ever tried to take a work meeting at the dining room table or in another common space in your house knows what we're talking about!) 
The rise of home offices also filled another need, though—the need for separation of "home" and "work." Telework blurred that boundary, and establishing a separate space dedicated to work is one way to resurrect that distinction. Being able to walk away from a computer at the end of the day and shut the door to your office makes it easier to feel like you are truly "leaving," marking the separation between your workday and the rest of your evening.
Increased privacy is another important factor driving the rebirth of the traditional floor plan. No matter who you share your home with, everyone likes to be able to retreat to the privacy of their own space from time to time. That's why people are now seeking out or creating calm, quiet niches within their home more than ever before.
5. Kitchen is King
Open floor plans may be slowly fading from popularity, but for kitchens, the opposite seems to be true. "Open" kitchens are in, and "invisible" kitchens—kitchens that camouflage into the rest of the home as much as possible—are on their way out. Those fridges with exteriors designed to match the kitchen cabinets? That would be classified as an "invisible kitchen" trend—downplaying or disguising kitchen necessities in favor of aesthetics. 
"Open" kitchens are the opposite. They're designed to celebrate cooking rather than hiding away cooking necessities. For example, mixers, toasters, blenders, and other countertop appliances that used to be considered eyesores no longer need to be shoved away, hidden in a storage shelf. Open shelving and glass-paned cabinets that show off their contents are another great example. And the "why" behind this shift is fairly simple—quarantined at home with limited access to their favorite restaurants, people discovered that they liked to cook!
6. Sustainability Matters
Remember how we said green is overwhelmingly the 2022 color of the year? People don't just want their home to look green—they want it to be green. From building materials to furniture, people are being more conscious than ever about their home's environmental footprint. They're increasingly looking for ways to make their home more sustainable and energy efficient through green technology—roof solar panels, smart thermostats, energy efficient windows, and so on. 
The catch: many people don't want to sacrifice design for sustainability. That's why experts are predicting a surge of aesthetically-pleasing eco-friendly solutions as sustainability and design continue to overlap.
Photo credit: Mike Van Tassell via Good Housekeeping
7. Maximalism > Minimalism
Home trends tend to swing from one extreme to the other, and this trend is no exception. As a direct reaction to the popular minimalism of the last few years, maximalism is starting to gain popularity. Whereas minimalism is all about clean design and getting rid of all but the necessities, maximalism is about surrounding yourself with the things you love, even if they aren't a necessity. Think comfy furnishings, decor, and knick-knacks to give your home personality.
Maximalism also encourages the mixing of textures, materials, and design styles. That's why experts are predicting the return of 70's paint colors and a rise in bold patterns. In other words, people are ready to shift away from the strict black, white, and neutral tones of minimalism and invite color into their spaces.
That being said, keep in mind that as a seller, it's still best to declutter your home before putting it on the market. Removing things like personal knick-knacks and family photos helps buyers envision themselves in the home, rather than seeing it as your space.
Photo Credit: John Angerson/BHF Retail via Metro
8. What's Old is New Again
Antiques never really go out of style, but vintage is "in vogue" in 2022, according to the experts. HGTV, Pinterest, Instagram, and even TikTok DIYers are giving rise to furniture flips—taking vintage, often thrifted furniture and making it like-new or uniquely yours. 
Part of this trend can be attributed to recent supply chain issues—with delays on things like furniture and home-building materials, people have taken matters into their own hands through second-hand shopping and upcycling. For the most part, though, it's because vintage and reclaimed furniture looks—there's no other word for it—pretty cool. The uniqueness people bring to these pieces lends itself well to maximalism, too. 
9. Curves Can Make a Space Cozy
You can't look at a 2022 home trends article without seeing something about curved furniture being the new hot item. Curved furniture is a reaction to the sharp, harsh lines of the Mid-Century Modern trend. Round coffee tables instead of rectangular ones are a great example.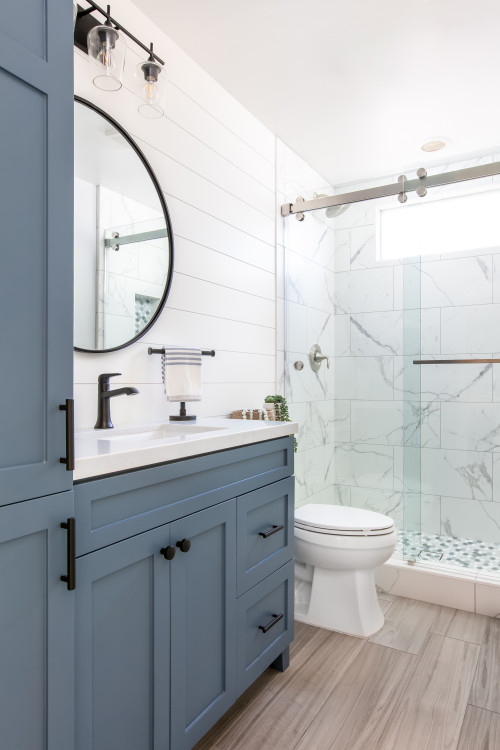 However, this concept applies to many other areas of your home aside from furniture—the rise of circular accent or bathroom mirrors and the return of arched doorways, to name a few. In all these cases, the softening of typically sharp, straight lines can help make a space feel cozy.
10. To Remodel or Not To Remodel?
The reality of home buying is that many homes on the market today aren't up to date with all of the most recent trends. In fact, we often recommend that buyers avoid major remodels before selling, as not all updates guarantee a return on investment. 
While it is possible to find a home that's already exactly your style, most buyers these days are coming into the search process with the knowledge that they'll likely have to put a bit of work into the new home to make it truly theirs. Especially in today's fast-moving, competitive market, buyers are willing to think big picture: compromise on style now, knowing they can renovate or remodel later.
A Final Note
At the end of the day, home is what you make it. Whether or not you keep up with all of the latest home trends, our job is to help you find the home of your dreams—or a home that you can turn into the home of your dreams! Reach out to one of our agents today to get started.